Free Ghostwriting Memoirs Workshop
with Allen R. Kates, MFAW
2012 Tucson Festival of Books
Along with spectacular author and writer, Lynn Wiese, Allen Kates is giving a free ghostwriting memoirs workshop on March 11 at the 2012 Tucson Festival of Books. If you wish to help others write their memoirs, life stories, autobiographies or family histories, you don't want to miss this class.
University of Arizona campus, Tucson, Arizona
More information at http://tucsonfestivalofbooks.org

Date: Sunday March 11, 2012
Time: 11:30 AM to 12:30 PM

Location: University of Arizona, Integrated Learning Center Room 151
The focus of Allen's Ghostwriting Workshop is—
Ghostwriting a Story Without Losing Your Mind
What skills do you need to write somebody else's story? How do you capture that person's voice and not go crazy?
More about Allen's ghostwriting work at: www.GhostwritingMaster.com.
What the Tucson Festival of Books Is About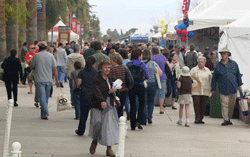 The Tucson Festival of Books is a celebration of literacy where authors gather to speak about their work and sign books. There are writing workshops and competitions, panel presentations, live cooking demonstrations, children's activities, storytelling, artists and musicians... and all for free to the public.
Last year, the festival featured more than 450 authors and more than 50,000 people attended on the University of Arizona campus. And local restaurants will offer a wide variety of foods. The Festival's proceeds go to several local literacy groups to promote literacy in southern Arizona. So plan on attending.
More information at http://tucsonfestivalofbooks.org
To return to the Free Writing Workshops page, please click here.